Key Features
Ultrasonic Dental Pick with LED Light
Sonic Pulses Help Safely Remove Dental Plaque, Tartar & Tooth Stains
Recommend by Dental Professionals for Adults & Children
Bonus Silicone Flossing Tip Included!
Requires 1 AAA Battery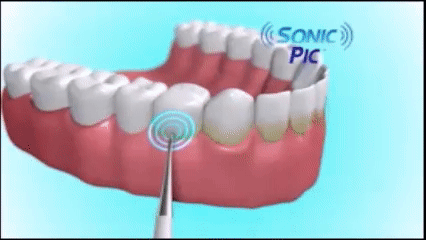 Recommended by dental professionals. Perfect for adults and children. Now your teeth can now look and feel like they have been professionally cleaned every day.
Sonic Pic cleans hard to reach places where food particles and plaque hide!
Sonic pic has a bright LED light so you can see it working. The low profile tip design and ergonomic design easily reach back teeth and molars. Sonic Pic is safe for implants, crowns, veneers and dental work. The stainless steel scale tip for allows for deep cleaning and the soft silicone tip makes it comfortable to use on sensitive teeth and gums.
Battery Operated & Portable
Low Profile Tip & Ergonomic Design
Included Silicone Flossing Tip
Customer feedback real shot
Removes stains, Whitens teeth, Healthier gums
Noting:If you need to pay useing other method.
You should click "Pay with Debit or Credit Card" when you complete order
Do you wish you could clean your own teeth as well as the Dentist does?
With Sonic Pic you can.
Sonic Pic uses gentle sonic vibrations to remove builtup plaque, stains and helps you get healthier gums without the pain and cost of a dental visit.
Product Features:
✔Gentle at Home Dental Cleaning System
✔Ultrasonic Dental Pick with LED Light
✔Sonic Pulses Help Scale Away Plaque & Tartar
✔Safe for Crowns, Implants, Veneers and Dental Work
✔Bonus Silicone Flossing Tip Included!

AFTER-SALE SERVICE

At Beautifully-decorated, we have strong confidence in our products. Every Beautifully-decorated product includes 90 days, worry-free Guarantee. If you have any problem or suggestion, please contact us freely, we will provide friendly support for you in 24 hr.